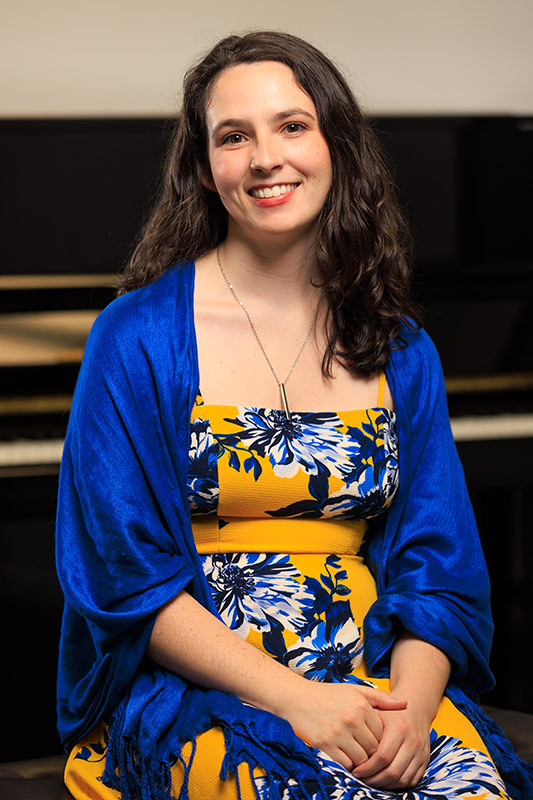 Alexandra Johannsen, Voice
Free
Select an available date (in green)
Select from available 30 minute increments
Select the blue "book now" button
You'll receive a confirmation email with additional details.
Description
If there are no available trial lesson times or if you have a question about trial lessons, please contact us.
The trial lesson is an opportunity for student and teacher to meet one another to determine if they are compatible with one another, without any long-term commitment. Parents are welcome to accompany children. If a longer lesson length is desired, that can be arranged after the initial 30-minute session.
Bio
Alexandra Johannsen is an enthusiastic soprano who enjoys sharing her love of music with students of all ages. She found her passion for performing through musical theater and acting, and then pursued a degree in classical voice performance from Towson University. There, she studied classical voice with Courtney Kalbacker and jazz voice with Sara Jones. During her time at Towson, she was cast in many roles, notably Hermia in Michael Ching's Midsummer Night's Dream and Charlene in Service Provider. She also has experience in singing contemporary styles such as rock and pop.
Alexandra believes that the best teachers are those who are sensitive to their student's personalities, creating for them a safe and encouraging environment to explore their music with curiosity and expressivity. She has studied Alexander Technique, which is a mind-body exercise intended for releasing tension in the body to optimize posture and breathing. Also a registered yoga instructor, her thorough understanding of the physical body and its influence on the vocal mechanism can empower students to trust their own breath, body, and voice during performances.
Alexandra teaches that classically-informed vocal technique is an essential foundation for all styles of singing, and also allows students to explore their own musical interests in their lessons as they wish. She is eagerly motivated to work with all kinds of singers to help them develop their abilities, expand their musical knowledge, and show them how to stand proudly, both on and off stage.