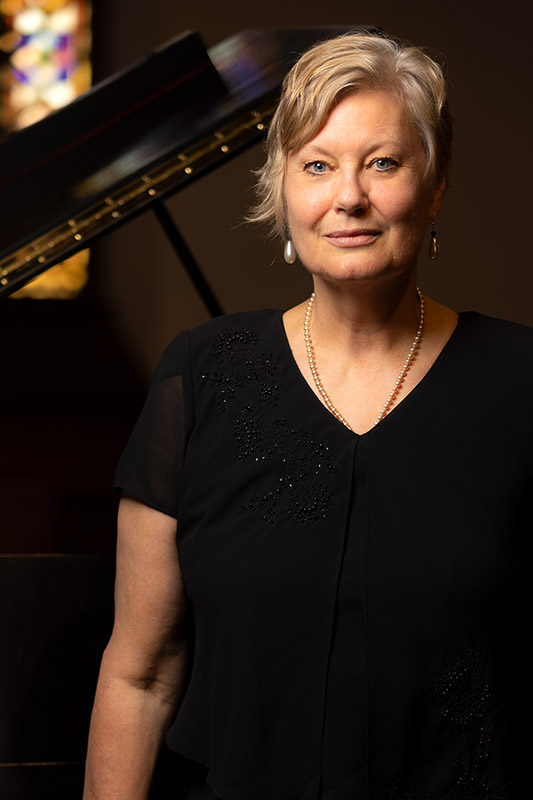 Gloria Hague, piano
Free
Select an available date (in green)
Select from available 30 minute increments
Select the blue "book now" button
You'll receive a confirmation email with additional details.
Description
If there are no available trial lesson times or if you have a question about trial lessons, please contact us.
The trial lesson is an opportunity for student and teacher to meet one another to determine if they are compatible with one another, without any long-term commitment. Parents are welcome to accompany children. If a longer lesson length is desired, that can be arranged after the initial 30-minute session.
Bio
Gloria Hague is a graduate of Westminster Choir College, where she studied piano with Harold Zabrack (himself a student of Nadia Boulanger).  Gloria taught piano through high school, through college at the American Boychoir School, Princeton, NJ. After college, she opened a private piano studio that grew to fifty-five students in Carlisle, PA.  She also taught piano through the completion of her Master's degree.
Gloria also attended piano master classes with Rosalyn Tureck at Oxford University, UK and with Nelita True of Eastman in Philadelphia.  During college she was a member of the Westminster Symphonic Choir which performed numerous times with the New York Philharmonic conducted by Zubin Mehta at Carnegie Hall and Lincoln Center.
Ms. Hague has taught at Pinebrook Junior College, Dickinson College, Mercersburg Academy, St. James Academy, and at the Dragon School in Oxford, known as the best prep school in England.
Additional international experiences include a one-year stint teaching in a university in China for one year and performing in Israel.
In addition, she has conducted many adult and children's choirs, most notably a choir of Army Colonels and their wives at the Army War College Protestant Chapel, Carlisle, Pa. which is our nation's top Army graduate college; General Eisenhower, Alexander Haig and General Schwarzkopf are among those trained there.  Gloria is recognized as an excellent piano teacher, having taught hundreds of students from the age of three through the age of seventy-five.