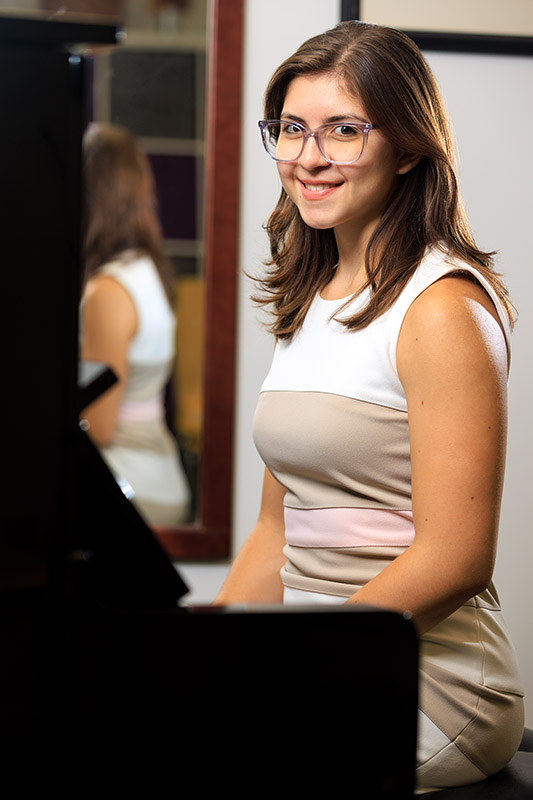 Linda Dillon Garcia, beginning piano
Free
Select an available date (in green)
Select from available 30 minute increments
Select the blue "book now" button
You'll receive a confirmation email with additional details.
Description
Beginning piano with junior instructors is a program that allows BAMS to offer beginner lessons at a discount, while giving qualified high schoolers valuable teaching experience.
If there are no available trial lesson times or if you have a question about trial lessons, please contact us.
The trial lesson is an opportunity for student and teacher to meet one another to determine if they are compatible with one another, without any long-term commitment. Parents are welcome to accompany children. If a longer lesson length is desired, that can be arranged after the initial 30-minute session.
Bio
Linda Dillon Garcia is a rising senior in Edgewood High School's International Baccalaureate program and maintains a 4.625 GPA. Her contributions to the community include tutoring children at LASOS and spending time with elderly residents at Amazing Grace Assisted Living facility in Bel Air.
Linda has honed her skills at the keyboard through over 10 years of study, performing solo, chamber music, and accompanying at area recitals. She has organized a CAS (creative, activity, and service) project to encourage young musicians to volunteer to play music at local nursing homes. Setting dates, confirming venues, planning and printing programs, recruiting and accompanying performers has been a chaotic joy! In addition to these performances, she has developed her teaching strategies by working as a swim instructor at Kids First Swim School.
Linda is eager to pass along her love and knowledge of music to young beginners. She hopes to pursue a degree in music, become a lawyer, and serve as a translator to give back to the Spanish-speaking community in the United States.