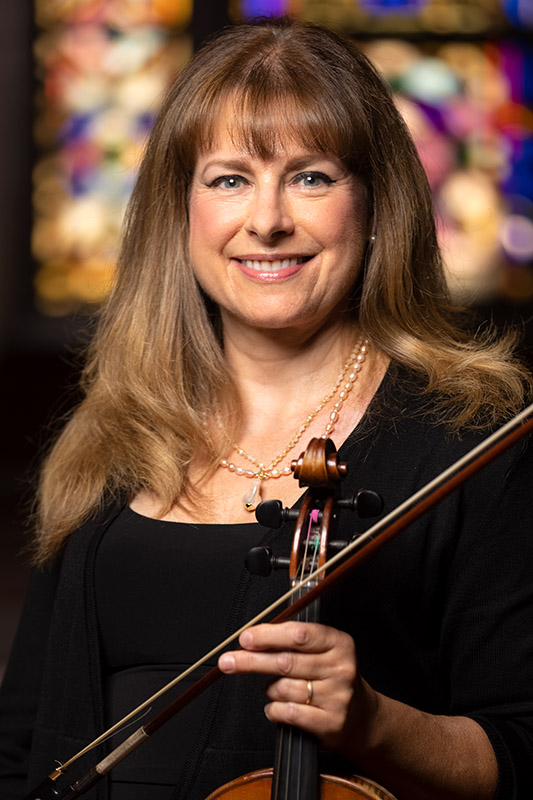 Wendy Bohdel, Violin
Free
Select an available date (in green)
Select from available 30 minute increments
Select the blue "book now" button
You'll receive a confirmation email with additional details.
Description
If there are no available trial lesson times or if you have a question about trial lessons, please contact us.
The trial lesson is an opportunity for student and teacher to meet one another to determine if they are compatible with one another, without any long-term commitment. Parents are welcome to accompany children. If a longer lesson length is desired, that can be arranged after the initial 30-minute session.
Bio
Wendy Ann Bohdel has served as the Concert Master of the Susquehanna Symphony Orchestra for over 30 years. She earned her Bachelor's degree in Music Education from Towson University where she studied violin with Professor Zoltan Szabo. Ms. Bohdel's graduate studies have taken her to Ithaca College in New York, Catholic University in Washington DC, and Bristol Intermont College in Virginia where she researched Suzuki Violin methods and studied with William Starr, nationally renowned Suzuki Master. Other graduate work included violin performance and music education studies at Towson University. She taught music in the Harford County Public Schools for eight years as an Orchestra Director and created an innovative curriculum based on the Suzuki Method. The program imparted advanced skills to youth, especially benefitting children with families unlikely to afford private music lessons, and enabled students to compete at a high level with those who had access to more formal training opportunities. Ms. Bohdel left the school system to focus her work in private music instruction, professional violin performance, and to pursue a new career path in nonprofits where she led as the chief operating officer for Big Brothers Big Sisters and The Institute for Integrative Health.
Ms. Bohdel is a graduate of the Harford County Leadership Academy, the Maryland Advocacy Leadership Academy, and a recipient of the Women of Harford Award for her work in music and service to vulnerable children. She currently serves on the Board of Directors of the Susquehanna Symphony Orchestra and the Leadership Board of The Whole Health Learning ED Group.
Several of her students have music degrees and many have continued their love for music including performing with the Susquehanna Symphony Orchestra and in other musical endeavors.
Ms. Bohdel is an active member of St. Ignatius Catholic Church, Hickory, MD, participating in the music ministry as a solo and ensemble violinist and performs in numerous quartets and ensembles throughout Maryland. She has been married for 37 years and is a proud mom of four children. Two of her daughters are working professionally as Harford County Public School music and science teachers, her son is a pilot in the United States Airforce, and her youngest is a nurse at Upper Chesapeake Hospital.