Our goal is to provide our students with the highest quality private music instruction available in the greater Baltimore area. Since 2006, we have been making a name for ourselves as the premier music school in the area for serious music students. We currently offer lessons in guitar, violin,  piano, viola, and voice, at two locations: 3 Vale Rd., in the Joan Ryder building, and 224 N. Main St., across from Shop Rite.
As teachers and performers, we strive to instruct the student on how to be a musician, not merely to get through the next performance. Our goal is to produce musically self-sufficient students, so that in time they have the technical knowledge, confidence, and experience to play whatever music they desire. To reach these goals, we regularly hold recitals which give the students the opportunity to sharpen their performance skills and prepare them for auditions for competitions, colleges, and festivals.
We also encourage our piano students to participate in the Trinity College London Practical and Theory Examinations. These build motivation, provide a structured curriculum, and give essential feedback on proficiency and level of accomplishment. In addition, we regularly encourage the students to choose a portion of their weekly assignments.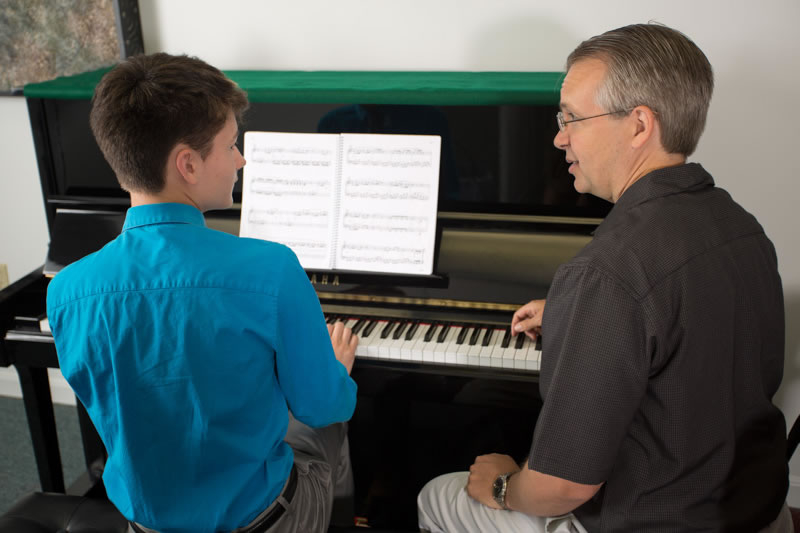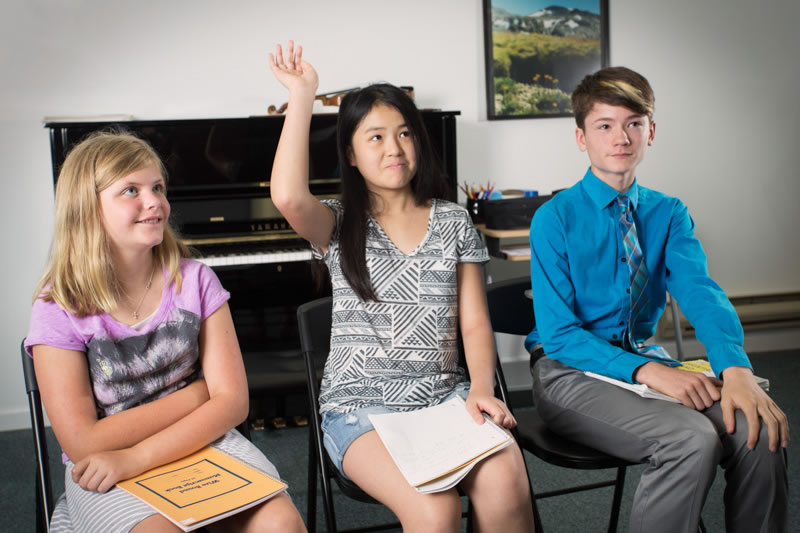 Many people wonder exactly what kind of person their child will grow into. And, along those lines, many people have heard about the many academic and cultural benefits private music lessons can provide. I occasionally meet parents who wonder why they should go through the frustration of "laying down the law" when their children reach a stage where they feel like stopping music lessons.
So, what are the benefits of sticking with it?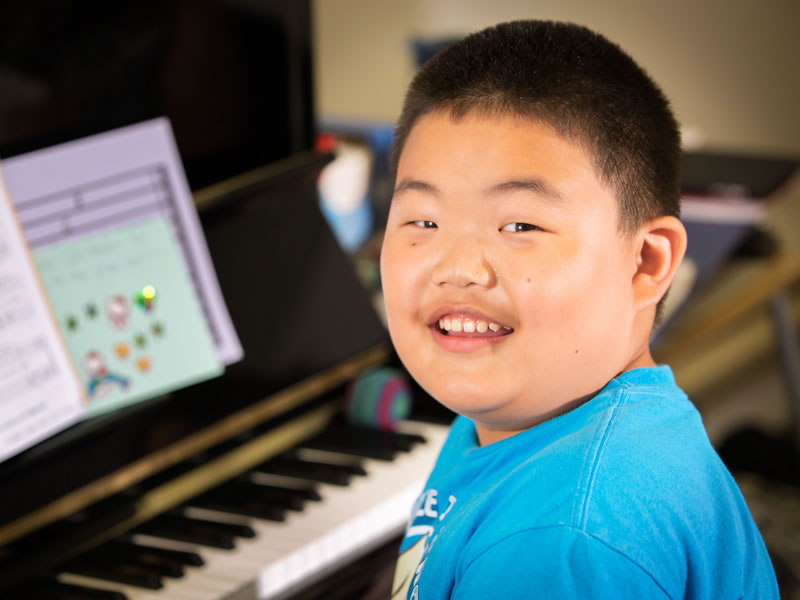 Music lessons benefit the whole person. These benefits may be categorized as mental, physical, emotional, and spiritual.
Most of us naturally associate music-making with mental activity. Reading, analysis, and memorization all fall into this category. However, singing or playing an instrument is also a physical activity. Coordination, posture, timing, and poise are all benefits that result from long-term music study.
For students who participate in recitals, confidence is a key emotional benefit. The courage it takes a normally quiet introvert to publicly pound a nine-foot piano is considerable. For the rest of the year, studying music is a journey that offers many obstacles to be overcome. Patience is a virtue we normally associate with practicing, but what about the consolation it offers after a day filled with troubles? The routine of daily practice is objectionable to some, but it offers stability to adolescents when everything else seems to be in a state of perpetual flux.
The spiritual benefits of learning music are, literally, spiritual values learned from the music itself. Beyond learning an instrument, then, learning music means learning how music behaves, and then applying that knowledge to life. Most music has a beginning, middle, and end—so does life. Many pieces travel through darkness to light, from difficulty to triumph, or from conflict to resolution—these are all models that are imitated in life, ideally.
Finally, there are the benefits of communicating the values learned through performance. This could be a studio recital, but more likely the communication takes place at home, for friends and relatives. Whether in the living room or Carnegie Hall, music-making means taking the support of parents, friends, and teachers, and giving back to the community by playing life-giving music for them.
When a music student quits, everyone loses.
Thinking about beginning lessons in your adult years? You'll feel comfortable taking lessons at Bel Air Music Studios. You'll not only learn to play an instrument, but you'll also learn to love music. In addition to learning how to play an instrument, many adult students enjoy studying music theory, composition, and ear training.
Myth: A child can develop their talent to a greater level if they begin lessons at age three.
Reality: Natural talent does not diminish with age. I have had students who did not begin lessons until their early 20's and still progressed at the same amazing speed as if they had begun when they were a child.
There's a whole new world of satisfaction and fulfillment for your soul just waiting to be discovered. You'll experience music in a way you never thought possible!
Can't teach an old dog new tricks?
Nonsense.
Talent doesn't diminish with age; adults simply learn differently than children.
Our pricing is competitive with other music schools in the area, but that is not why you should choose us. Go ahead and compare our prices, but there are many other factors which should be considered when choosing a private music instructor. These are performance, degrees, dedication, and experience.
Performance is crucial.  The ability to help a student solve a technical problem on their instrument only comes from real performing experience.  The teacher must visualize themselves performing the passage, and then communicate the correct technique to the student. Look for a seasoned performer who knows how to prepare for competitions, recitals, and college entrance auditions.
The degree a teacher has earned says a great deal about their ability to play and teach their instrument.  There are four basic types of degrees available for musicians: Performance, Commercial, Education, and Therapy.
A performance degree means the teacher has focused on developing their ability to play, as well as taking courses including the pedagogy and literature of their instrument.  For most purposes, a teacher who has a performance degree in their instrument will be most suitable for achieving the highest-level results.
A commercial degree means the teacher knows jazz and/or other popular styles, but will not be prepared to help a student attain the technical proficiency required to master the classics or pass a college entrance audition (except for a jazz/commercial degree).
Teachers who possess education degrees are prepared to teach music in the public schools.  Their degrees, while rigorous, are focused on developing the skills to be certified classroom teachers.  The degree does not require the same level of concentration on their instrument, and, in the field, they may be expected to teach many instruments which are outside their specialty. However, preparation in psychology, as well as additional training in addressing learning disabilities, can be crucial to achieving a balanced outcome.
A degree in music therapy qualifies a person to work with the developmentally or physically disabled using music as part of their therapeutic program. They may or may not have attained a high level of proficiency in their instrument.
Assess the instructor's level of dedication.  Do they really care about children, or are they just looking to make a buck? Will they offer a trial lesson to see if they can establish a rapport with the prospective student? Do they make the effort required to communicate their skills to the student?
Finally, experience is essential. A teacher should be confident in their role as an instructor. They should know what works and what doesn't.  This level of confidence and know-how only comes with experience.
Occasionally one hears the comment, "[that teacher] is good enough for beginners."  Perhaps this idea comes from a misunderstanding of what is taught at the beginning. Or perhaps it comes from an encounter with an accomplished musician who refused to work with children or beginners.  But the first stages involve so much more than the ABC's of music, and not all good performers have the dedication and calling to work with novices.
A versatile musician's technique can only be built on a good foundation, and an experienced performer knows best what that foundation should be.
"Teaching kids to count is fine, but teaching them what counts is best." ~ Bob Talber